Education and Culture
Working Group Members on Education and Culture
* Dr. Mariana Bara(Romania)
* N.N.(Bulgaria)
* N.N.(R. of Macedonia)
* Petraq Lera(Albania)
* Dr. Lila Cona(Serbia)
* Nicola Tona(Albania)
* Iancu Puznava(Germany)
* Vanghiu Dzega(Italy)
* Mihali Prefti(Canada)
* Goga Shutsu(Romania)
* Spiro Poci(Albania)
The engagement of the Armân(Macedonarmân) Council in issues concerning the education of the Macedonarmân people, in all Balkan countries where they live in, also in issues concerning the acsses to education in their own language, this engagement means in the same time an initiative on Language and Culture Diversity which starts from the premise that language diversity is the most important component of the cultural diversity. This enables the interaction of communities belonging to different cultural backgrounds. Language and culture are part of the human intangible heritage. In languages and cultures are reflected the values and particularities of different ethnic groups, values which lead to an economic and social inclusion of individuals belonging to minority groups.
The European Union Member States as well as the members of the the Council of Europe have not yet developed a clear concept which have to take into account this importance of the promotion of the linguistic and cultural inclusion. Furthermore, the cultural inclusion could promote the social cohesion, could improve the relations between minority groups and domestic intitutions, as well as the relations among various ethnic groups.
A very important aspect is also the effect of language loss on ethnic identity. Minority groups, in many European countries, have lost their own language and are desperately trying to revitalize it and to regain their own identity.
Recommendation 1333 on Armân Language and Culture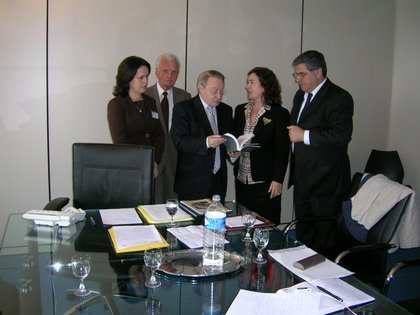 The traditional Macedonarmân lifestyle  was completely disrupted at the beginning of the 20th century by the political and social changes in the Balkans. When their territory was divided up among four different States and the borders were made permanent, the different Armân communities found themselves unable to conduct their traditional exchanges. More often than not, their herds and lands were sold, and many Armâns left their mountainsides to settle in the towns and cities and thus merge with the mass. Compulsory education (in the majority language) and the advent of broadcasting served only to expedite this process.
Taking into account the critical situation of the Armân(Macedonarmân) language and culture, which have been present in the Balkans for over 2000 years, but face today a serious risk of extinction, the Council of Europe adopted by the Assembly on 24 June 1997 the Recommendation 1333 on Armân Language and Culture. In order to prevent such a cultural loss for Europa, the Council of Europe encourages the Balkan states where the Armân people live, to support their language in the fields of education, religion and the media. The base document of the Recommendation 1333/1997 was the Doc. 7728 , the report of the Committee on Culture and Education, rapporteur Mr. Lluis Maria de Puig.
Armân(Macedonarmân) Cultural Events in Albania
 A remarkable theatre team from Bucharest presented on 20th and 21st of December 2008 in Albania two representations, in Korce and Tirana, by playing the theatre piece of Carlo Goldoni, The Liar(Il bugiardo), in their mother tongue, the macedonarman language.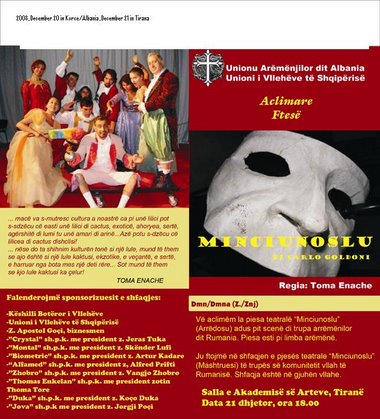 Characters : Lelio, the Liar(Toma Enache) – Arlecchino, his servant – Pantalone, his father(Vasili Topa) – Doctor Balanzone(Vasili Tode) – Rosaura(Dana Pocea) and Beatrice(Teodora Calagiu), his daughters – Colombina, their maidservant(Ianula Gheorghe) – Florindo, assistant to Balazone, in love with Rosaura(Mihai Gheorghe) – Brighella, his friend, in love with Colombina(Cristi Stere) – Ottavio, in love with Beatrice(Atanase Stefu), Cleonice, a Roman lady(Vera Cocish).
Regisseur : Toma Enache
 *
*                   *
 Lelio, a Venetian who has spent years away from home, returns to Venice. He courts the two daughters of Doctor Balanzone, Beatrice and Rosaura, without telling them which one he really loves. Meanwhile, each girl has another suitor a well, Florindo for Rosaura and Ottavio for Beatrice. Florindo is shy, however, and will not tell Rosaura that he loves her. This allows Lelio to concoct fabulous lies and convince Rosaura that he wishes to marry her. Lelio's lies get him into deeper and deeper trouble with the girls, their father, and his own father Pantalone. At the end, it is revealed that while in Rome he married a Roman lady, who comes to claim him, leaving Rosaura and Beatrice free to marry Florindo and Ottavio.
These two cultural events, organised jointly by the Macedonarmân Council and two member organisations, Armân Businessmen Union MANDRA – Korce/Albania and Armân Union of Albania -Tirana, have been enjoyed by the participants.
 Armân(Macedonarmân) National Day – 23 May  
Ma zburâm di Dzuua Natsionalâ a Armânjiloru, zburâmu di unâ Natsiuni Armâneascâ, di unu populu cari-shi tinjiseashti unâ dzuuâ ditu isturie tsi u luyurseashti ca-atsea ma aleapta, di nai ma marea simasii.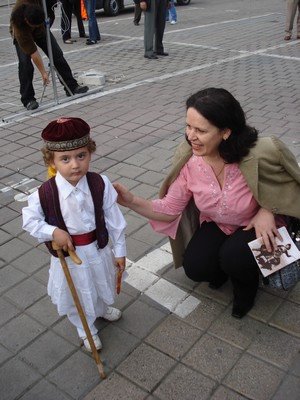 A s-hibâ câ nu au unu cratu a loru, Armânjlji suntu unâ Natsiuni. U dzâtemu aesta minduinda la multili alâxeri tsi li tricu, tu hiotea a chirolui, zborlu "natsiuni". Tu multi vâsilii, zborlu "natsiuni" easti nica idyiulu cu "statu/cratu".
Zborlu shi-ari zârtsina tu latinâ: natio (verbulu nascere) shi spuni tsânearea di unâ comunitati tu cari ti-amintashi. Multu amânatu vini noima politicâ : atsea comunitati cari tsâni putearea deadunu cu vâsiljelu/amirălu.

Di la Minarea/Ribilipsirea Frântseascâ s-azburashti di "Cratu-Natsiuni" shi zborlu frântsescu "nation" ari noima di "comunitatea a tutâloru bânâtoriloru cari au idyili-ndrepturi". Ashi, agiumsi cratlu s-hibâ putearea giudicâ a natsiuniljei.
Ma-ndreaptâ pari turlia cumu minduirâ ghermanjilji ideea di "natsiuni". Herder dzâtsea câ natsiunea easti comunitatea cari s-aleadzi pritu limbâ, culturâ shi adetsli istoritsi. Easti zborlu di unâ "natsiuni lingvisticâ" ahoryea, a s-hibâ câ easti ampârtsâtâ di sinuri, ama membrilji a elji suntu ligats cu duchearea câ tsânu di unâ dealihea natsiuni lingvisticâ. Aestu contseptu s-uiduseashti multu la Armânji.
Ideea di natsiuni ca statu/cratu natsionalu s-amintă tu eta 19, unâoarâ cu amintarea a craturiloru natsionali evropeani.
Documenti di Strasburg, aprucheati di Adunarea Parlamentarâ, dzâcu câ easti ananghi s-hibâ pricunuscuti ligâturli a cathi unui bânâtoru evropeanu cu identitatea, cultura, adetsli, isturia a lui shi sâ-lj si da-ndreptulu sâ s-luyurseascâ shi membru ali unâ "natsiuni", ahoryea di-atsea a vâsililjei tu cari elu bâneadzâ.
Shi-ashi s-bagâ thimeljiu giudicu la atea tsi Armânjlji s-luyursirâ di daima tu isturie: unâ Natsiuni.
Aestâ nauâ turlie di mutreari evropeanâ s-uiduseashti la catandisea di daima a Armânjiloru: bânâtori/tsitâtseanji tu ma multi vâsilii balcanitsi, suntu, nafoarâ di sinuri, unâ dealihea natsiuni.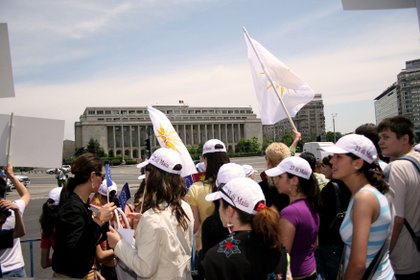 Ashi putem s-dămu apandisi shi la atseali muabets cari spunu câ Armânjlji nu avurâ unâ ducheari/conshtiintsâ natsionalâ. Mutrinda adzâ, tu lunjina evropeanâ, ideea di "natsiuni", videmu limbidu câ Armânjlji nu chirurâ canâoarâ tu isturii duchearea câ suntu populu ahoryea. Aestu lucru lj-agiutâ s-armânâ shi-adzâ, tu uruta catandisi tu cari lj-arcă isturia, s-armânâ unu populu, s-armânâ unâ natsiuni…
Ti itia câ tu vâsiliili balcanitsi cratlu easti unâ cu natsiunea, yiurtusearea a dzuuâljei natsionali ahurhi la tuts unâoarâ cu amintarea a cratlui natsionlau.
Aestu lucru exiyiseashti câ tse Armânjilji ahurhirâ ahântu amânatu yiurtusearea a dzuuâljei natsionali.

Dupu Iradelu di la 1905, cari pricunushtea Armânamea ditu Amirâriljia Otomanâ ca mileti ahoryea, ishi tu migdani ideea di yiurtuseari a Dzuuâljei Natsionali tu 23-li di Maiu.
La 1906 fu unâ pripuniri tr-aestâ dzuuâ, ama Polematli Balcanitsi shi anlu 1913 (ampârtsarea Makiduniljei) nu adusi haraua shi-arihatea ashtiptatâ ti ahtari yiurtuseari… Armânamea fu ampârtsâtâ, vindutâ trâ sinferlu politicu a vâsiliiloru tu cari shi-adzâ bâneadzâ.
Iradelu armasi, cama di tsindzăts di anji, mashi unu documentu istoricu tsi va s-eara di multu agârshitu ma s-nu-ahurhea minarea di ridishtiptari a armânamiljei di-aoa shi cama di treidzăts di anji.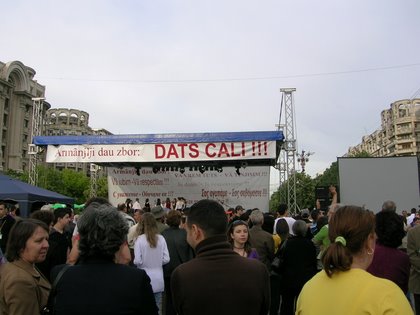 Cathi oarâ cându s-yiurtiseashti Dzuua Natsionalâ, armânamea âshi hârseashti suflitlu, bânândalui s-veadâ cumu adzâ, tu isturia modernâ a Armânjiloru, s-fatsi unâ ahtari yiurtuseari a Dzuuâljei Natsionali …, la unâ ahtari dimensiuni.
Shi aestu evenimentu, agiumsi anu di anu unâ aradâ, iutsido tu Balcanu, iu bâneadzâ Armânamea. Arâulu di Armânami cari s-vearsâ dipriunâ la unu ahtari evenimentu, yini di-alargu, ditu isturii… Azvoami ditu durearea atsiloru Armânji cari nu voru s-nâ chearâ fara, limba, nâmuzea…
Aestu arâu curâ pi-ascumta, adunâ apili, lăcârnjili-ahântoru bârni di Armânji tsi tricurâ nitricutili… Ama, vini oara s-iasâ tu migdani shi curarea a lui isihâ, ama mplinâ di puteari sh-pirifanji.
Sumu semnulu a aleaptiloru zboarâ-simbolu " Armânjlji – iutsido – iuva" tsi li adyivâsimu di-ahâtea ori ti Dzuua Natsionalâ, iasi daima tu migdani unu populu cari deadi ahânti steali pi tserlu-ntunicatu i aroshu di sândzâ a Balcanlui…
Câ, dealihea, fumu iutsido, deadimu iutsido shi adzâ himu "iuva"… Câ tse iuva? Câ limba a noastâ nu-shi mata ari casa di vâr chiro, adetsli, cântitsli, stranjili, identitatea – tuti nâ furâ loati, furati, alâxiti tra s-chearâ itsi toru di fara a noastâ…
Ama, isturia nu easti daima njearcâ shi adzâ, easti sh-di partea armânjiloru… Tu Evropa tu cari nu mata ari frixi, nu mata ari natsionalismu, tu Evropa iu suntu avigljeati tuti identitătsli etnitsi.

Ishearea tu migdani a Armânamiljei, cathi oarâ ti Dzuua Natsionalâ, easti dealihea istoricâ. Ea va s-hibâ daima paradiyma trâ tuti alanti vâsilii iu bâneadzâ Armânjilji: nu pots s-amintsâ tsiva, ma s-nu lucredz, s-nu caftsâ atsea tsi tsâ si pricadi! Ea va s-dishcljidâ calea câtâ chischinipsearea a "problemlui" Armânescu, cari s-amintă Bucureshti, aoa shi 150 di anji…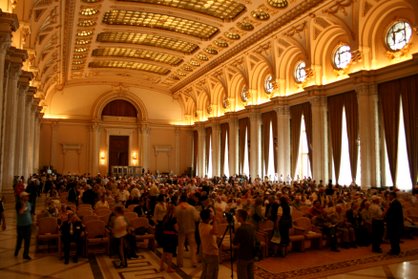 Armânamea avea ananghi di-aestâ limbidzari cari ahurhi sâ s-facâ tu România. Tra s-poatâ s-anchiseascâ tu isturia modernâ ca unu populu ahoryea, ca unu populu evropeanu…
Avemu nâdia câ yiurtusearea a Dzuâljei Natsionali a Armânamiljei di cathi anu, iutsido tu Balcanu, tsi anchisi sânâtosu cama di dzatsi anji, easti shi anchisita câtâ ACACHISEARI, VREARI, TINJISEARI, UNITATI…
"Vini oara", cumu dzâsi poetlu Gica Godi, s-duchimu câ mashi unitatea va n-ascapâ shi va nâ ducâ la amintaticu! S-agârshimu anyrânjia, zilia, pirifanjea personalâ shi s-lucrămu mashi ti unu lucru: Unitatea Armânamiljei!
Dzâlili a Culturâljei Armâneascâ
28-30-li di Agustu 2009 – CUSTANTSA, ROMÂNIA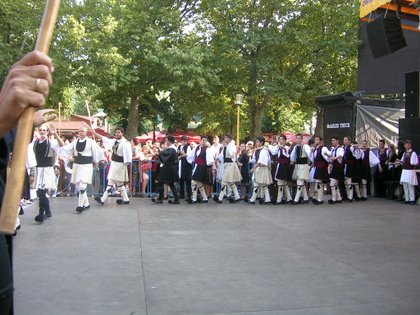 Fârâ di altâ, zborlu "alâvdari" trâ aesti dzâli di culturâ armâneascâ, nu-ncapi tutu tsi vremu sâ spunemu… Tsi s-alavdzâ ma ninti? Tuti evenimentili furâ ti-anami! Unu "tutu-ntregu" di mushuteatsâ culturalâ armâneascâ!
 Dzâlili di culturâ armâneascâ di Custantsa (anlu aestu tu shasili anu) s-alegu di tuti alanti evenimenti armâneshtsâ la cari lomu parti pânâ tora… Easti zborlu di profesionalismu, calitati, spiritu intelectualu di analtâ tesi…Aesti dzâli scotu tu padi câ putumu s-astritsemu atselu pragu di amatorismu shi folclorismu shi s-agiundzemu tu unâ aradâ culturalâ di tesi evropeanâ, internatsionalâ. Pânâ tora aestu lucru s-putu mashi tu România, iu Armânamea ahurhi di vârâ yinyits anji sâ-shi toarnâ identitatea, sâ-shi tinjiseascâ limba, s-u lucreadzâ, s-u bagâ tu aradâ… Easti ti ciudii câ aestâ turnari s-fatsi ma cu puteari tu locurli xeani shi nu tu vrutili a noasti locuri ditu Makidunie, Pindu… Poati câ durearea câ himu alargu di eali nâ da aestâ vreari shi puteari!
Dzâlili a Culturâljei Armâneascâ di Custantsa agiumsirâ atseali ma di simasii sârbâtori trâ tutâ armânamea: ditu România shi di iutsido. Acâ himu "Iutsido-Iuva", himu la aesti sârbâtori "Daima deadunu" – tra s-adutsemu aminti zboarâli-nyrâpsiti pi hlamburi cându Fara Armâneascâ ditu România câfta-ndrepturli di la guvernu.
 Dealihea himu "deadunu" la aesti sârbâtori, armânji di pisti tutu Balcanlu, ampârtsâts di nidreapta isturie, ama adzâ adunats ca frats, tu musheata avlie ali naua Evropâ.
"Bati câmbana" fu slogan-lu alushtoru dzâli – uidusitu cu catastisea tu cari n-aflămu… Bati câmbana trâ-ncljinari la Dumnidzâ, trâ dishtiptari!
Aestu anu, ca sh-alantsâ, unâ gioanâ parei di tiniri lucrarâ chiro di-ndoi meshi. Mari haristo sh-alâvdari a tinirlui Nicu Vrana cari, anlu aestu, cumândâsi organidzarea. Duchimu la ahtări sârbâtori câ himu unu POPULU cari ahurhi sâ-shi intrâ tu aradâ…
Tra s-bânămu aestâ mari harauâ prindi, ninti sh-ninti, s-haristusimu atsiloru cari featsirâ mari pidimo tra sâ-ndreagâ ahtari mari sârbâtoari trâ armânami: Fara Armâneascâ ditu România shi Cunsillu a Tiniriloru Armânji.
Atselji cari fumu Custantsa putumu s-videmu câtu lucru fu, tsi loghisticâ sh-hârgiuri s-featsirâ!Fara Armâneascâ ditu România spusi nica unâ oarâ giuneatsâ!
Va s-lomu pi-aradâ, shcurtu, evenimentili cari s-dizvârtirâ:
 1. Expozitsiunea di artâ andreaptâ di plichisitorlu, sculptorlu Mihali Tugearu. Vidzumu aleapti zuyrâpseri/picturi clasitsi (ca atseali alu Theodor Aman – di arâzgâ armâneascâ) shi di pictori armânji di adzâ: Ecaterina Vrana, I.Drăghici, T.Ceara. Nâ hârsirâ ocljiulu shi suflitlu musheatili sculpturi moderni alu Mihali Tugearu. "Birbeclu", "Câmbana", "Cârlibana" suntu simboluri armâneshtsâ mutati di doara alu M.Tugearu la simboluri internatsionali.
 Tu dishcljidearea a dzâliloru shi a expozitsiuniljei, unâ njicâ parei di ficiurits, cumândâsitâ di dhascala Zoe Gica, spusirâ cu anami sh-pirifanji poezii armâneshtsâ. Tinjisimu lucurlu tsi lu fatsi di-ahântsâ anji shi-lj hâristusimu trâ putearea a ljei niacumtinatâ trâ prâxearea a bârnului di ficiurits.
2. Simpoziomlu andreptu di tinira avucatâ Chirana Darlaiani nâ purtă tu dumeanea a praxiljei crishtini la armânj – "Pistea, Mistiryiulu ti armânearea tu banâ a popului armânu pisti eti" . Cu-aestâ furnjie zburârâ: Yioryi Vrana, Yioryi Platari, Santa Djika, preftulu Sascho Yiurândă.
Furâ pârâstâsiti cărtsâli "Carti di-ncljinări", apridusâ di Tacu Piceava, "Sâmtsâ armânji,  Hâgilichea" di Aurica Piha, filmulu andreptu di Costel Farmazon trâ paraclisea armâneascâ "Sâmtsâlji Petru shi Pavel"di Peshtera shi CD-lu andreptu di Toma Enache cu poemi di Spiru Fuchi shi Toma Enache.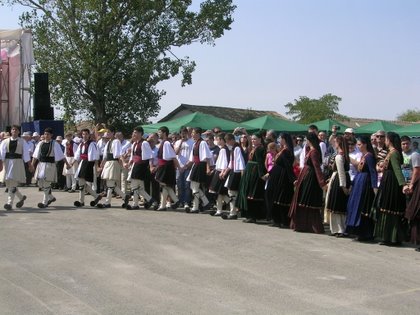 3. Folclorlu. Pânâ tora earamu anvitsats s-videmu unu folcloru oarfânu cari sh-avea chirutâ opsea armâneascâ shi undzea ca pi vâryârescu, rumânescu… Aestu anu vidzumu trei parei di giocuri shi cântitsi armâneshtsâ cari ciudusirâ shi umplurâ suflitlu di harauâ.
Sutsata Armânjiloru di Veria nâ turnă cu gioclu sh-cânticlu a loru tu chirolu ancestralu armânescu. Nâ turnă tu isturie ama sh-tu yinitoru… Unu populu la cari nica bâneadzâ ahtari folcloru, spuni câ nica easti vurtosu, câ zârtsina easti nica ahândoasâ, teasâ…
Haristusimu a Sutsatiljei Armânjiloru di Veria trâ copuslu cari lu featsirâ tra s-n-aducâ aestâ harauâ!
Vidzumu sh-câ tu România ahurhi turnarea a gioclui tu arada armâneascâ. Aveamu vidzutâ ma multi ori pareia "Pilisterlu" sh-mi hârsescu câ spiritlu-a lui s-dutsi nâinti. 
Mari nâ fu haraua s-videmu sh-unâ altâ parei di giocuri armâneshtsâ – "Iholu" di Custantsa, cari spusirâ multâ mushuteatsâ shi lâ urămu s-ducâ nâinti vrearea trâ gioclu sh-cânticlu safi armânescu.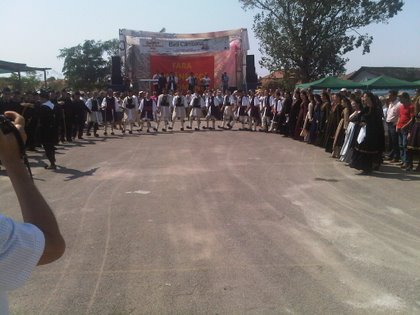 4. Teatrulu armânescu. Trâ atselu ma naltulu evenimentu mutrits ma-nghiosu zboarâli nyrâpsiti ahoryea, ti furnjia câ suntu multi ti spuneari…
5. "Corlu Mari" di Eschibaba. Dzâlili a Culturâljei Armâneascâ di Custantsa s-bitisescu dumânicâ cu liturighia pi-armâneashti shi cu Corlu Mari.
Tu bâsearica ditu hoara armânescâ Eschibaba, preftulu Ploscaru lituryisi pi-armâneashti.
Fumu trâ prota oarâ la Corlu Mari di Eschibaba shi nâ ciudusi cu câtâ vreari n-ashtiptarâ armânjilji ditu aestâ hoarâ. Ashtiptari ca pi numtâ amirâreascâ! Oaspitslji furâ tinjisits cu mâcări armâneshtsâ di bolcâ.
Oaspili ditu Helvetie, retoromanlu Romedi Arquint, sh-armasi ciudusitu shi pi calea di Eschibaba câtâ Bucureshti nâ spusi câ nu ari mata vidzutâ tu bana lui ahtari uspitsâljie…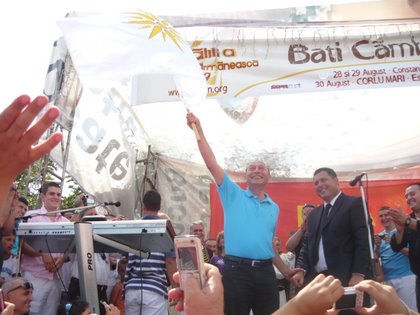 Dimarhulu a hoarâljei, Dumitru Enache-Shamata, tinirlu Stelica Fudulea di Tulcea shi-altsâ armânji cari agiutarâ trâ arhundeatsa alishtei dzâli, lâ haristusimu ditu inimâ.
Cumu anvitsatu, la Corlu Mari di Eschibaba fu oaspi shi prezidentulu ali Românie – Traian Băsescu. Zborlu a lui fu tinjisitu, fârâ vârâ aumbrâ di propayandâ politicâ… Dzâsi câ-lj cânoashti ghini "makidonjlji" (cu aestâ numâ himu ma cânâscuts tu Românie!), câ lâ shtii isturia shi cripărli cari li tricurâ, câ lucrâ cu elji, câ ari multsâ sots…
Giucă cu hlambura a Farâljei Armâneascâ ditu România (pândzâ albâ cu soarli alu Filip) shi tâxi armânjiloru câ va-lj agiutâ sâ-shi tsânâ adetsli, limba.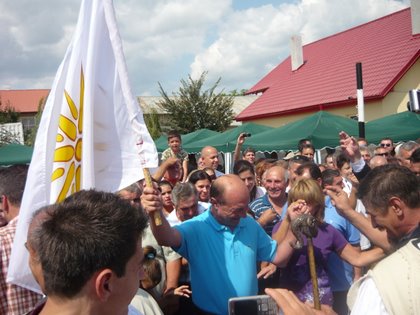 Chiro di 4 anji prezidentulu Băsescu nu apruche unu dialogu cu Fara Armâneascâ ditu România cari caftâ di ma multsâ anji pricânushtearea armânjiloru ca populu ahoryea tu România. Poati tora, nâinti di alidzeri, va sâ s-facâ aestu dialogu cari va s-agiutâ sâ s-da cali la câftărli armânjiloru ditu România.
Theatru Armânescu la DZÂLILI A CULTURÂLJEI ARMÂNEASCÂ
Custantsa – România – 28-30-li di Agustu 2009
"Minciunoslu" di Carlo Goldoni shi "Secta a muljeriloru"(Niorilji) di Aristofan
Viniri, 28-li di Agustu vidzumu spectacolu "Minciunoslu" di Carlo Goldoni, tu reghia alu Toma Enache. Anyrâpsimu sh-altâ oarâ tr-aestu spectacolu cari lu vidzumu Custantsa, Curceaua sh-Tirana… Aestâ oarâ ni-arisirâ multu adâvgărli di stsenografii, atseali musheati caduri cu Vinitia veaclje, bâgati tu fundulu di stsenâ…
Ama marea "surprizâ" fu aestâ oarâ naua piesâ di theatru tu reghia alu Toma Enache – "Secta a muljeriloru" (adaptari dupu "Niorilji" a comediantului grecu Aristofan).
Cumu s-ahurhimu? Tsi zboarâ s-arâdâpsimu? Cumu s-bâgămu pi carti atsea tsi bânămu tu dauli seri di theatru armânescu? Ciudiili nu potu s-hibâ zuyrâpsiti tu zboarâ, prindi s-hibâ bânati!
Noi, atselji cari vidzumu spectacollu dupu Aristofan, putemu s-dzâtsemu câ s-featsi trâ noi unâ ahândoasâ alâxeari. Cara multsâ di-armânji nica pistipsea câ limba nâ easti oarfânâ, niaxi trâ marea artâ modernâ, duchirâ, tu-atseali dauli seri di teatru di Custantsa, câ alâtusirâ!
Toma Enache featsi unâ mari demonstratsiuni di fortsâ shi scoasi tu padi câ limba armâneascâ ari tuti hărli, putearea sh-mushuteatsa tsi li-au tuti limbili ofitsiali, natsionali…
Vidzumu theatru tu multi metropoli ditu Evropa shi, pistipsits-ni, theatrulu armânescu tu reghia alu Toma Enache poati s-hibâ arâdâpsitu tu idyia tesi cu-atselu di Bucureshti, Paris, Londra, New-York …"Avets avdzâtâ di "fenómenlu Toma Enache"?
Dutsets-vâ la theatrulu armânescu shi va s-duchits putearea alushtui fenómenu:
– va s-intrats tu unu yisu, ninyisatu pânâ tora…
– suflitlu va v-azboairâ tu locuri niminduiti: tu Vinitia cari, kiro di dauâ sihăts, easti armâneascâ…
– inima va vâ si umplâ di unâ harauâ shi mushuteatsâ fârâ aradâ…
– va s-avdzâts asunări di kipurici, di ghiurdănji di-nveasti nali, di-arâsu di feati nimârtati…
Toma Enache nâ da unâ soie di yitrie cari n-agiutâ, ti vârâ sihati, s-duchimu câ himu tu unu theatru natsionalu evropeanu, iu Limba Armâneascâ s-priimnâ pi stsenâ ca unâ dealihea vâsiljioanji!
Reghizorlu, actorlu, poetlu Toma Enache ari multi hâri – va li videts!
Ama, harea lui atsea ma marea easti curbanea tsi u fatsi di-ahântsâ anji, putearea tra s-adunâ cânâscuts actori armânji ditu România, cumu easti atsea ma-mplinâ di hări theatrinâ – Dana Pocea…
Easti putearea lui tra s-adunâ deadunu unâ pareie di armânji cari, trâ prota oarâ, calcâ pi unâ stsenâ di theatru shi s-aspunu, dinintea-a noastâ, ca dealihea actori…"
Pânâ tora, Toma Enache andreapsi ma multi spectacoli di theatru armânescu: "Lali Nida s-ampuliseashti cu strânghilji" shi "Noaptea furtânoasâ" (dauli dupu I.L.Caragiale), "Tenda" shi-aesti di cari zburâmu tora. Ama atselu ma naltulu puntu ditu bana lui di reghizoru lu luyursimu spectacolu cu "Secta a muljeriloru" – dupu "Niorilji" di clasiclu autoru grecu Aristofan (448-380 ninti di Hristo).
Duchimu cu aestâ furnjie câtu s-uidisescu atseali lucri di bana di aoa sh-cama di dauâ njlji di anji, ditu chirolu alu Socrate shi Aristofan cu atseali di adzâ! Aoa easti putearea a artiljei – axi s-bâneadzâ pisti suti, njilji di anj!
Toma Enache nâ mută la "Niorilji" alu Aristofan cari, tu reghia a lui, loarâ prosupi di muljeri… Unâ musheatâ idhee! Stepsiadi ditu piesa alu Aristofan easti tora unu picuraru armânu, tu stranji armâneshtsâ, cu cârlibana tu mânâ – semnu, simbolu aleptu trâ armânami: di cumândaru trâ fumealje, trâ farâ…
Toma Enache angrică multu pi Pisti, pi Dumnidzâ, tr-atsea alâxi numa alu Zeus cu Dumnidzâ. Ashi, putu s-aducâ tu dzuua di adzâ textulu alu Aristofan shi sâ-lj da unâ opsi armâneascâ sh-atsea axii cari lu fatsi s-hibâ canda anyrâpsitu adzâ…
Ia mutrits tsi zboarâ mintimeni nâ spuni Toma Enache tu cârticea ditu pruyrama di la spectacolu:" Ma nu ari pisti omlu agiundzi un clown. Un clown tsi lucreadzâ tu unu Circu, tsi siyura Draclu lu cumândâseashti. (…) Planlu a lui aistâ aradâ s-pari multu lishoru: macâ va s-ai ananghi di pâradz, lipseashti s-nu mata pistipseshtsâ tu Dumnidză, ama s-lu pistipseshtsâ unu om (Socrate i vârnâ altu)"
Arâdeari, câdeari pi minduiari… Arâslu eara ca amaru, humorlu s-turna tu-nvirinari cându videamu câ, di daima, lumea easti cumândâsitâ di pâradz!
Toma Enache angrică pi aestâ temâ, cu bunâ shteari: armânlu easti, di multi ori, sclavlu a pârălui! Tu bitisita spectacollui sala di teatru s-umplu di dolari arcats di-ndzeanâ! Fu unu momentu cându tuts duchimu noima alushtui lucru di reghie…
Easti zborlu tu piesa alu Aristofan di putearea di alidzeari a caliljei tu banâ, di apufuseari, cândâseari, di turnarea acasâ a hiljlui asprânditoru, di xanaaflarea axiiloru di simasii trâ fumealje, farâ…
Reghia, stsenografia, sunitlu – lucrarâ deadunu tra s-bitiseascâ aestu spectacolu ti ciudie. Tutu chiorlu unâ lungâ pândzâ albâ ascundea sh-dizvâlea "niorilji" cu prosupi di muljeri… Niori, bumbunidzări, arâslu a featiloru ca asunari di yâryârici, cadurli cari alâncea dinâpoia a stsenâljei – nâ fâtsea s-pistipsimu câ himu tu unu theatru internatsionalu… Ama, zboarâli armâneshtsâ cari li-avdzâmu nâ pindzea tu njirari, ciudie, mâyie…
Cumu di s-putu ahtari nishani?!
Fâra di altâ, atsea searâ di la theatrulu di Custantsa, u bânămu sumu bagheta maghicâ alu Toma Enache – theatrinlu/actorlu, reghizorlu, armânlu cu mari vreari sh-puteari s-mutâ arta armâneascâ tu unu locu canâoarâ agiumtu pânâ tora!
Toma Enache easti Thimiljiusitorlu a theatrului modernu armânescu!
Shtimu câtu copusu, chiro sh-curbani caftâ ahtari lucru… Ama avemu nâdia câ Toma duchi câtâ harauâ n-adusi tu suflitli agiuni di artâ analtâ armâneascâ! Bâtumu pălnjili chiro lungu shi canu di noi nu vrea s-fugâ ditu salâ!
Canda nu vreamu s-fudzimu ditu atsea lumi mayicâ shi s-nâ turnămu tu-atsea di cathi dzuuâ…
Atsea searâ nâ-mbitămu tuts di mushuteatsâ, iluzii, nâdie, pirifanji… Biumu ditu putirlu-mplinu di arta fârâ di moarti, eternâ, cari, cu-ahântâ vreari, nâ lu teasi Toma…
Nu putemu s-nu-adutsemu aminti câ Toma nu va s-putea s-bitiseascâ aestâ ciudie fârâ agiutorlu a theatrinjiloru/actoriloru.
Prindi sâ spunemu câ giucarâ actori profesionishtsâ, di arâzgâ armâneascâ: Teodora Calaigiu, Sorin Shaguna, Aida Economu… Ama, alantsâ tiniri, di la sutsata armânjiloru di Bucureshti, nu furâ ma-nghiosu!
Toma Enache giucă cu mari mâsturlâchi rollu alu Socrate.
Nu va s-alâtusimu anda va s-dzâtsemu câ tutu spectacollu angrică pi pâltărli alu Vasili Topa – armânlu cari nu easti theatrinu/actoru di zânati ama cari putu, chiro di cama unâ oarâ, s-nâ mâyipseascâ cu-agioclu shi zborlu a lui. Vasili Topa lu-adusi Stepsiadi alu Aristofan tu lumea armâneascâ ahântu uidisitu câ va s-mindueshtsâ câ trâ aestâ lumi fu anyrâpsitâ piesa… Unu mari bravo trâ vrutlu sh-tinjisitlu a nostu Vasili Topa!
Unu ahtari spectacolu poati cu pirifanji s-hibâ giucatu pi stseni mondiali.
Minduiamu tsi harauâ va s-hibâ trâ-ntreaga pareie s-poatâ s-gioacâ piesa tu unu theatru di Atena – aclo iu bână shi-nyrâpsi Aristofan shi iu armânjlji alâsarâ ahânti seamni, adârâminti di culturâ!
Cându vidzumu prota oarâ "Minciunoslu" di Carlo Goldoni, tu reghia alu Toma Enache, anyrâpseamu:
*
*                       *
Putemu s-dzâtsemu, fârâ s-alâthusimu, câ evenimentulu atselu ma aleptu di la patra editsii a Dzâliloru a Culturâljei Armâneascâ di Custantsa fu spectaclu di theatru TENDA. Cumu adyivâsimu tu afishu: "unu spectaculu teatral pirmitusit di tinirlji armânji pritu imagini, muzicâ, giocu shi poezie "pi textulu anyrâpsitu di Toma Enache shi Atanasie Nasta.
Multsâ cari furâ tu salâ duchirâ ca unâ turlie di "ilectridzari", di mârmuruseari, di ciuduseari. Easti ti prota oarâ cându unu textu di theatru safi armânescu easti scosu tu migdani.
Theatrulu tu limba armâneascâ avu niheamâ banâ tu ahurhita di eta 19, ama, ma amânatu, chiru… S-pârea câ ti daima!
Pânâ cându, unu tiniru dhurusitu cu mãri hãri trâ theatru,TOMA ENACHE, ahurhi naua minari di theatru armânescu.
Adutsemu aminti aoa prota a lui dramatidzari dupu marli scriitoru I.L.Caragiale, "Lali Nida s-ampuliseashti cu strânghilji" (giucatâ di Toma, Aurica Piha shi Irina Paris) shi deapoaia multu avdzâta piesâ di theatru, tutu alu Caragiale, "Unâ noapti furtunoasâ", pi dauâ limbi (armânâ shi românâ), giucatâ di avdzâts theatrinji di la Teathrulu Natsionalu di Bucureshti.
Toma Enache easti cânâscutu tu România ca bunu regizoru shi lucurlu-a lui fu tinjisitu cu diplomi nu mashi tu România, ama shi tru xeani… Putea sâ-shi ducâ nâinti lucurlu, s-amintâ sh-pâradz, ama Toma Enache s-apreasi di unâ idei tsi s-pârea ca utopicâ: s-bagâ thimeljiu la nãulu theatru tu limba armâneascâ!
 TENDA easti unâ nauâ ahurhitâ, tsiva tsi nu s-mata featsi tu cultura a noastâ! Potemu s-anyrâpsimu frândzâ-mplini ti aestu spectaculu shi nâ easti niheamâ greu s-li spunemu tuti pi shcurtu.Dupu spectacolu avdzâmu multi muabets: tuts furâ ca mâyipsits! Oaspili di Belgia, Jean-Luc Fauconnier, armasi cu unâ aleaptâ entipusi, ciudusitu câ tu limba armâneascâ s-fatsi culturâ di tesi evropeanâ.
La spectaculu TENDA, Toma Enache nâ deadi unâ turlie di yitrie cari nâ agiutâ, ti vârâ sihati, s-minduimu câ himu tu unu theatru evropeanu, câ limba armâneascâ shi-easti tu aradhâ, tu treilu mileniu…
Tu musheatlu afishu, Toma Enache nâ spuni: "TENDA easti unâ soie di pirmithu theatral dzâsu di tinirilji armânji cu agiutorlu a imaginilor, a cântitslor, a gioclui shi a poeziljei."
Pirmithlu modernu TENDA ahurheashti cu-ndauâ musheati versuri di-alu Toma, spusi cu boatsi analtâ shi cutrimburâtoari di tinirilji theatrinji:
"Noi himu mashi purtâtori di cârlibânji veclji, tu eta nauâ,
Noi himu mashi purtâtori di zboarâ cu trastili amplini di vreari,
Noi himu mashi boatsea atsilor tsi nu s-agârshirâ tsi suntu,
Noi himu sândzâli tsi nu s-featsi apâ,
Noi himu boatsea tsi cântâ ti existentsa a noastâ! NOI!"
Tenda, cârlibana, trastulu suntu simboluri armâneshtsâ,. Ufilisiti cu mari hari di regizoru. Câ tse tenda? Tenda easti casa di vearâ a Armânlui, simbolidzatâ pitu unâ trâmbâ di sirmâ njirlâ cari s-minâ tutu chirolu pi stsenâ shi s-adarâ cându piramidâ, cându arâu, cându muru, cându coru… Easti putearea di minari, di alâxeari, di urdinari shi di turnari la zârtsinâ a armânjiloru …
Tenda easti loclu tsi aveaglji adetsli, mentalitatea armâneascâ, easti mistiryiulu, easti atsea tsi armânamea tinjisi di daima: morala, tinjia, pirifanjea, nâmuzea, nisheanea a banâljei…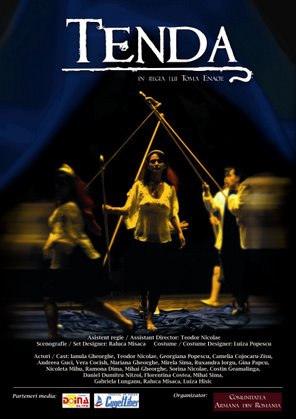 Ama tenda di vâr chiro armasi mashi tu thimiserli-a farâljei; adzâ easti unu mitu armânescu… Adzâ ea easti mashi unu simbolu shi-aestu simbolu lu ufiliseashti Toma Enache cu mari axii artisticâ. Toma adutsi nâintea noastâ unâ "tendâ" modernâ, ashi cumu sh-lumea armâneascâ bâneadzâ tu unu chiro modernu. Tenda easti unu adârâmintu-simbolu; nuntru shi di-anvârliga a ljei s-dizvârteashti bana armâneascâ di adzâ, cari va sâ-shi tsânâ tuti adetsli, ama cari prindi sâ s-uidiseascâ shi cu lumea nauâ, modernâ a treilui mileniu…
Anvârliga di tendâ suntu tinirilji cari facu siryiani; cântâ, gioacâ, azburãscu… Shi-aoa aflâ Toma unâ multu aleaptâ idei cari da lârdzimi internatsionalâ a spectaclui: s-azburashti armâneashti, ama avdzâmu shi zboarâ tu limbili: anglicheascâ, frântseascâ, italicheascâ, spanicheascâ… Va s-dzâcâ, limba armâneascâ intrã normalu tu corlu lingvisticu internatsionalu!
Atsea tsi da mâreatsâ a spectaclui fu alidzearea a muzicâljei. Cântitsli-alu Mihali Prefti furâ aleapti multu uidusitu: atseali di harauâ, di shicaie, di dureari armâneascâ, di nâdie…
Tiniri musheats, livendzâ, anãltsâ, tsânu-ntru mânâ niscânti cârlibãnji multu lundzâ shi, pi muzica alu Mihali Prefti, "azboairâ" pi stsenâ… Aestâ imagini easti ti niagârsheari shi easti di mari mushuteatsâ plasticâ.
Tenda s-bitiseashti cu unu simbolu: trâmba di sirmâ njirlâ (ca tserlu) s-fatsi muru shi di dinâpoi s-veadi unâ cârlibanâ shi tu idyia oarâ easti shi coru di numtâ traptu di unâ nveastâ nipistipsitu di-analtâ, mayicâ (u poartâ pi-anumiru unu tiniru cari nu s-veadi!)… Suntu simbolurli-a zartsinjiloru (tenda, murlu shi cârlibana) shi a dutseariljei nâinti a armânamiljei: corlu di numtâ.
  TENDA fu giucatâ di tinirlji di la sutsata armâneascâ di Bucureshti, cunuscutslji "Pilisteri" , dealihea theatrinji hrisusits shi dhurusits!
S-l-adutsemu aminti numa câ elji va s-armânâ tu isturia a theatrului armânescu modernu ca protslji theatrinji:
Ianula Gheorghe, Teodor Nicolae, Georgiana Popescu, Camelia Cojocaru, Luiza Hrisic, Florentina Costea, Andreea Guci, Vera Cocis, Mariana Gheorghe, Mirela Sima, Ruxandra Iorgu, Gina Papacu, Nicoleta Mihu, Ramona Dima, Mihai Gheorghe, Sorina Nicolae, Costin Geamalinga, Daniel Dumitru Nitoi, Mihai Sima, Gabriela Lunganu, Raluca Mishaca.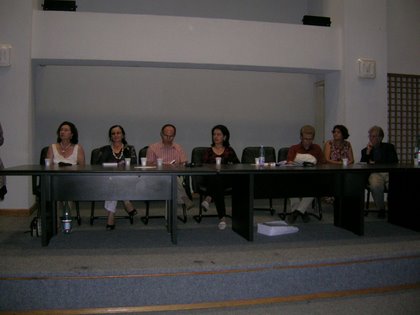 Alâvdãmu aleapta stsenografie andreaptâ di Raluca Mishaca shi stranjili adrati di designer Luiza Popescu.
 Câdzurâ sinurli istoritsi shi deadunu cu eali shi sinurli di-anamisa di noi… Aestu easti nai marli amintaticu a sârbâtoriloru armâneshtsâ: adunarea, cânushtearea… Avemu nica s-tritsemu cheaditsi, sâ-lj surpămu murilji di frixi, niacâchiseari, nipistipseari…
 Shtimu ghini câ tora s-aproachi nalili alidzeri shi nu putemu s-duchimu shi sinferlu politicu a uspetslui alu Traian Băsescu. u anvitsatu, la Corlu Mari di Eschibaba fu oaspi shi prezidentulu ali Românie – Traian Băsescu. Zborlu a lui fu tinjisitu, fârâ vârâ aumbrâ di propayandâ politicâ… Dzâsi câ-lj cânoashti ghini "makidonjlji" (cu aestâ numâ himu ma cânâscuts tu Românie!), câ lâ shtii isturia shi cripărli cari li tricurâ, câ lucrâ cu elji, câ ari multsâ sots…Tu bâsearica ditu hoara armânescâ Eschibaba, preftulu Ploscaru lituryisi pi-armâneashti.Yianula Gheorghe, durusita cântâtoari, easti "magnitlu" cari tora lj-adunâ aeshtsâ tiniri…Mutreamu corlu armânjiloru di Veria, avdzamu boatsea di birbiljiu alu Yioryi Maneca sh-canda videamu atselu coru vecljiu armasu tu filmulu a fratsloru Manakia… Yioryi Vrana, aputursitu sh-elu di-aestâ mushuteatsâ mayicâ, dzâsi: "Aestu nu easti folcloru. Easti artâ imperialâ/amirâreascâ!"